By Ella Hopkins
After the success of my previous blog post on how the coronavirus makes us ill, I have decided to continue on the theme of explaining a coronavirus concept at increasing levels of difficulty.
Here it is in plain English.
At the moment in the UK, people are only being tested for the coronavirus if they are admitted to hospital and exhibit coronavirus symptoms (along with some tests for healthcare professionals). They have a cotton swab put down their nose and run along the back of the throat to collect saliva and mucus. These swabs are sealed and sent to a lab for testing.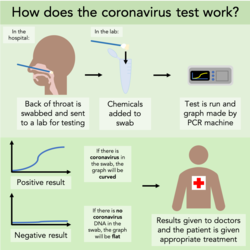 In the lab, scientists will run a PCR test to see whether the coronavirus is present in the swab. PCR involves lots of fancy chemicals and an expensive machine and usually gives a result in a few hours. If there is genetic material from the coronavirus detected in the swab, the PCR machine will give a positive result, the doctors will be informed and the patient will be officially diagnosed. However, because of a shortage of some chemicals and a backlog of tests, usually the labs take up to 48 hours to report a test result.
Understandably, it is extremely important that the result that comes back is correct. Even a tiny bit of contamination could lead to a positive result when actually the result would have been negative. This is one of the reasons why it's important to ensure that all healthcare workers, including the people taking the swabs and the scientists running the tests, have adequate personal protective equipment (PPE).